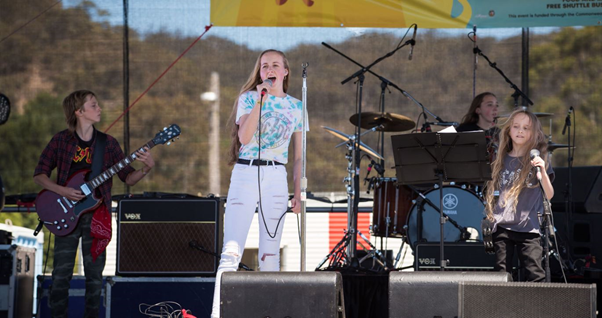 We are HOLLOW POINT.
A family band of 5 siblings based in Little Hartley, NSW that formed in November 2018.
Pat 19 years on bass guitar, Tess 18 years lead vocals, Nina 15 years drums and vocals, Jack 13 years lead guitar and Evie 9 years percussion and vocals
Our influences are old school Rock and Blues Rock (Creedence Clearwater Revival, Black Sabbath, KISS, Led Zeppelin and AC/DC ) through to modern Rock (Greta Van Fleet, Foo Fighters and Metallica)
We are very fortunate to live in the Lithgow area where there is a rich growth of musicians both young and old, professional and amateur.
We have been mentored and supported by local band members from "Glam Jam" and "Diverse".
We wouldn't be the group we are today without the underpinning support given by Cletis, Lez and Walter all of High St Music, Adam from Birdwood Guitars and CBG,s Katoomba and our Schools St Patrick's Lithgow and La Salle Academy Lithgow.
Keep on Rock'n,
HOLLOW POINT